Thailand (prathet Thai, which means "land of the free")
Capital city
Bangkok (in Thai: Krung Thep, which means "city of angels") The full name is:
Krung Thep Mahanakhon Amon Rattanakosin Mahinthara Ayuthaya Mahadilok Phop Noppharat Ratchathani Burirom Udomratchaniwet Mahasathan Amon Piman Awatan Sathit Sakkathattiya Witsanukam Pra
which makes it the longest geographical name in the world.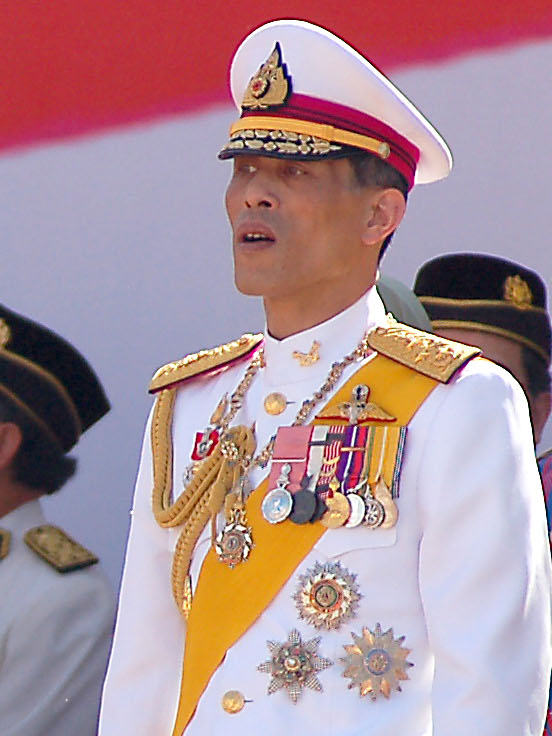 His Majesty King Maha Vajiralongkorn (Rama X)
Head of state
Thailand is a constitutional monarchy. Its present monarch is His Majesty Maha Vajiralongkorn Bodindradebayavarangkun, known as King Rama X, as he is the tenth king of the Chakri Dynasty, successing his father, king Bhumibol Adulyadej, who has been the world`s longest reigning monarch before he died in Bangkok on October 13th, 2016.
Prime Minister
Since August 24th, 2014, retired General Prayut Chan-o-cha holds the post of Thailands Prime Minister, following Yingluck Shinawatra.
National holiday
December 5th (it's the former King Bhumibol Adulyadej birthday) — Might be discontinued and/or replaced.
Land area
514,000 sq km or 198,455 sq miles (including territorial waters).
Population
68.297.577 inhabitants (2017) = 132,9 inhabitants per sq km
Currency
Thai Baht (THB)
1 Baht = 100 satang (hardly used anymore)
Coins: 1, 2, 5, and 10 Baht
Notes: 10 (phased out), 20, 50, 100, 500, 1,000 Baht
Rail system
Total length of tracks: 4,346 km (2013)
Roads with solid surface: 70,812 km (2016)
The main ports
Laem Chabang, Bangkok (Klong Toey), Sattahip, Phuket, Pattani, Songkhla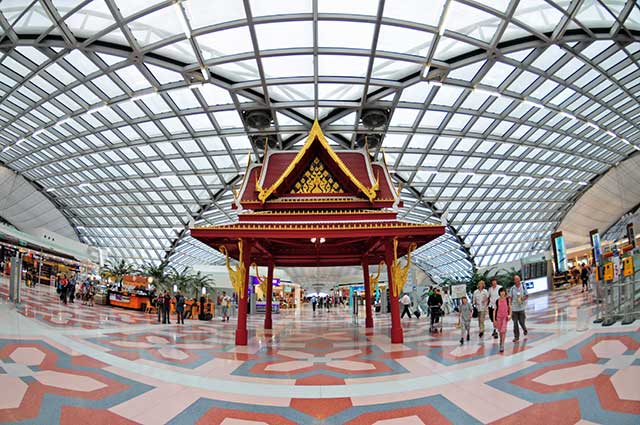 Thailands busiest Airport: Bangkok Suvarnabhumi
Airports
Thailand has 38 commercial airports as of the end of 2016. The busiest ones are:
Suvarnabhumi Airport/Bangkok
Don Mueang Airport, Bangkok
Phuket Airport
Chiang Mai Airport
Krabi Airport
Local time
Seven hours ahead of Greenwich Mean Time (+7 hours GMT)
Highest mountains
Doi Inthanon (province of Chiang-Mai) - 2,565 m
Doi Luang (province of Chiang-Rai) - 2,175 m
Loi Un (province of Chiang-Rai) - 2,131 m
Phu Soi Dao (province of Uttaradit) - 2,102 m
Khao Mokochu (province of Khampaeng Phet) - 1,960 m
The largest rivers
Chao Phraya 372 km / 231 miles - this is the country's main waterway
Chi 765 km / 475 miles
Mekhong 4,880 km / 3,000 miles - a few hundred kilometres of it form the border to Burma, Laos and Cambodia
Mun 750 km / 466 miles
Nan 740 km / 460 miles
Ping River 658 km / 409 miles
Because of the confluence of tributaries the lengths of the rivers are somewhat disputed.
The main islands
Phuket (province of Phuket) - 543 sq km
Koh Samui (province of Surat Thani) - 229 sq km
Koh Chang (province of Trat) - 217 sq km
Koh Lanta Yai (province of Krabi) - 180 sq km
Koh Pha Ngan (province of Surat Thani) - 168 sq km
Electrical voltage
220 Volt
Geographical location
Thailand is a tropical country of Southeast Asia and is located between the 6° and 20` of latitude north and 98° and 105` of longitude east.