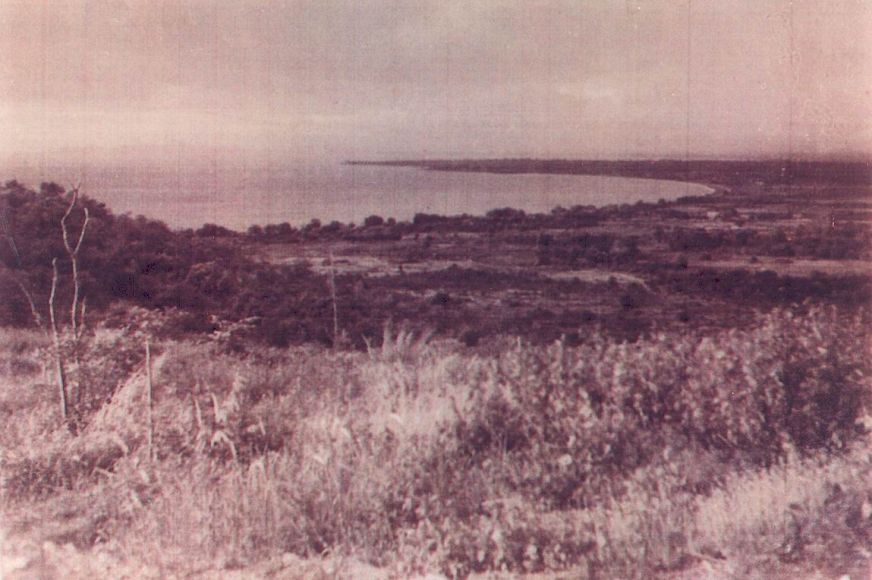 Pattaya Bay in the early 60s, before it all began.
It was an ordinary day, when on June 29, 1959 four US-army trucks with a few dozen soldiers on board rolled through the sleepy fishing village called Pattaya and stopped near the beach. The frolicking GIs, who had rented a few bamboo huts at the southern end of the four kilometer long bay, were a novelty for the locals, who watched these guys with great curiosity.
A sleepy fishing village changed forever when in 1959 US soldiers opened their Rest Recreation Centre in Pattaya.
Then, when the Vietnam war was at its height, the military tourism got into full swing, when Pattaya - only 154 kilometres south east of Bangkok - was chosen as the Rest & Recreation Centre of the american military personnel. It was really just a handful of american GIs who in 1959 initiated Pattayas tourism boom and changed life in Pattaya forever.
The fishermen of those days are no longer in Pattaya, and bamboo houses on stilts don't exist anymore. But when the Yanks moved out at the end of the war, other tourists came from all parts of the world and Pattayas real growth began. Pattaya - which means "south west wind" - was literally overrun by visitors in the mid 1980s, and soon the town became the biggest and best known seaside resort in South East Asia. Hotels, apartment blocks, restaurants and places of entertainment virtually sprang up without any control out of the sand, but the town's infrastructure wasn't prepared for the onslaught.
Environmental problems, tourist rip offs and an uncontrolled sex industry stained the town's image to such an extent that some major tour companies labeled Pattaya as "sin city" and struck it from their lists of travel destinations. And because of many negative reports in which Pattaya was described as a sex paradise and a hiding ground for criminals, some tourists still shun the place today because in their view life in Pattaya is unattractive.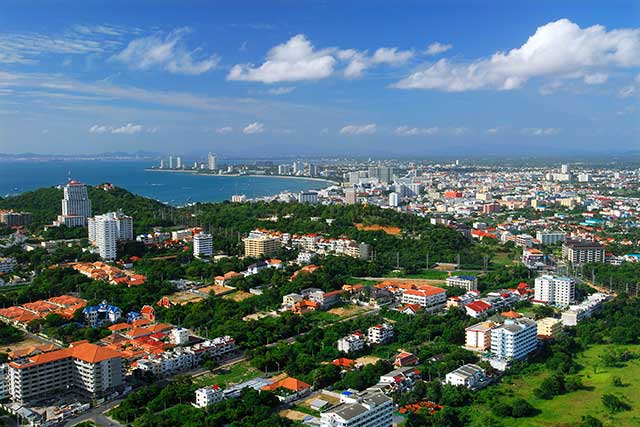 The same spot only a short time later.
At times, Pattaya was labeled as "sin city"
In the meantime, with the investment of several billion Baht, the government and the private sector have managed to rescue the resort's bad image by upgrading the town's infrastructure and adding many more new attractions. A huge waste water treatment plant has brought about cleaner sea water, and many newly built streets have improved the traffic situation.
Having learnt from its past mistakes, Pattaya is nowadays once again an attractive holiday destination. More and more British, Scandinavian, German and Russian visitors (including married couples) come every year during the European winter to this seaside resort, which officially has a little over 100,000 inhabitants, but 350,000 would certainly be a more realistic figure.
There is a new atmosphere in town. After extensive market analyses many international restaurant chains like McDonald's, Pizza Hut, Swensens, Sizzler, Daidomon and Benihana and also some famous fashion houses such as Benetton and Esprit have opened branches in Pattaya. Some of them moved into the Royal Garden Plaza, one of the earlier modern shopping and entertainment centres.
Central Festival Beach Centre - Asia's largest beachfront shopping venue.
Nowadays, Pattaya once again is an attractive holiday destination
In there you can also find the famous American museum "Ripley's Believe It Or Not" which was opened in February of 1995. A bright red twin engine DC3, which at one time dropped paratroopers over Vietnam, and which looks like having crashed into the centre's glass and concrete facade, marks the entrance to this unusual museum.
Inside you can admire 250 strange and sensational exhibits - like a hairy fish, a three-legged horse, the tallest man in the world at 2,72 metres, shrunken heads, distorting mirrors and short movie clips of spectacular accidents. If you need even more stimulation you can visit the Motion Master Moving cinema right next door and experience a wild ride in one of its hydraulic armchairs, or just across from the cinema take part in a Laser-Trek adventure.
One of Pattaya's newest attractions is a 48-seat submarine that takes tourists three times daily near the island of Kho Sak into the silent world of the deep.
Apart from the Royal Garden Plaza there are the Avenue, two Tesco-Lotus department stores, one Carrefour in the middle of town, while another one is planned for the south, and of course there are countless larger and smaller Thai markets where a myriad of goods are being offered. But then there is one more splendid shopping venue that we haven't mentioned yet:
It is the seven billion Baht Central Festival Pattaya Beach Centre, which was opened in January 2009 that would have to be the crown jewel among all shopping centres. It was built in a matter of only 2 ½ years at a location right at the beach and is now Asia's biggest shopping and entertainment centre on the beach. Apart from 350 individual shops the centre features the Central Department store which is Pattaya's first high-end shopping venue. The complex, located between Beach Road Sois 5 and 7, comprises 240,000 qm of sales areas on six floors. It has 10 cinemas, a bowling alley with 16 lanes, a karaoke complex, a fitness centre, a supermarket of international standard and nearly 100 eating establishments. In addition to that the many terraces offer a splendid view of Pattaya Bay and the offshore islands. Adjacent to the centre, the top luxury 26 floor Hilton hotel with 350 luxurious rooms and its splendid gastronomic venues is the new star in the local tourism industry. Even more shopping-centers like the gigantic "Terminal 21 in North-Pattaya" are to be opened.
Pattaya definitely offers an abundance of shopping venues. In this regard the resort is second only to Bangkok and can certainly compete with other major cities in Asia.
To complement the modern shopping and entertainment venues the city has renovated its beach promenade with colourful paving stones, beautiful stone benches, gleaming chrome railings, as well as with many trees and flower beds. This almost Riviera-like walkway is meant to support Pattaya's ambitions to become the shopping capital, as well as the exhibition and conference centre of the fast growing Eastern Seaboard. Once again life in Pattaya has become attractive and full of new choices.
At the southern end of town a winding road leads to the top of a hill, Khao Phra Tamnak, where several small roads have been built to make the hill more accessible. On the western flank of this hill there is the popular Rama IX Memorial Park, which is frequented by joggers and other sports minded people. From a temple on the summit one can enjoy a beautiful panoramic view over what was once the quiet fishing village of Pattaya. From Wat Phra Yai, a temple on another hill nearby, a large Buddha in the sitting position looks down on the hustle and bustle of the town. On the way there one passes a garden setting full of sculptures, where Kuan Yin, the Goddess of mercy, and the philosopher Lao-tse can be seen.
Shopping, nightlife, sigthseeing, natural attractions or culinary delicacies from all over the world - Pattaya has it all
After five years of construction the highest public building on Thailand's east coast has become a major Pattaya landmark. Not without pride does the city point to the 240 metre tall Pattaya Park Tower as another tourist attraction. Inside the huge concrete tube two lifts shoot up to the top in no more than 40 seconds.
On the 55th floor there is an observation platform where visitors can enjoy a fresh sea breeze. If you leave the lift three floors before reaching the 55th, you'll find yourself in an exclusive revolving restaurant, where a great variety of international dishes is being offered. It turns around once every 90 minutes and offers therefore a magnificent view over the surrounding areas, namely Pattaya city, the bay with all its islands, the long beaches that stretch down towards Sattahip and on the other side the verdant hills of the hinterland.
In the meantime, however, Pattayas skyline is dominated by several new huge skyscrapers all along Wong-Amart, Pattaya- and Jomtien-Beach.
The Hopf Brew House is without doubt another venue that makes Pattaya a sophisticated holiday resort. Already in the late afternoon this stylish pub begins to fill up with guests. Everything in this place is made of timber: bars, stairways, ceilings and wall panels have been crafted from this beautiful natural material which gives the Brew House a feeling of warmth and elegance. However, the "heart" of this boutique brewery is located near the exit to the terrace on Beach Road. Inside huge copper kettles there are thousands of litres of delicious lager beer brewing under the control of a German master brewer. Every evening a professional Italian band provides excellent entertainment, and despite the fact that the Hopf Brew House can accommodate more then 300 patrons, the place is often crammed with people, even during the off season.
In the meantime a lot of other trendy pubs have opened up in Pattaya, such as Delaneys and Henry J. Beans, which can easily compete with similar high class establishments in cities like Paris, New York or London. The change in the vibrant disco segment is so frequent, new players overpass the old ones such as the legendary Marine Bar, that we just can`t cope with all the latest openings. The internationally renown colourful transvestite shows Alcazar and Tiffany as well as several fun filled karaoke bars, it can be said that Pattaya's entertainment venues have reached a high standard of quality, that has already been praised by several major travel firms.
It's not only the unique open air beer bars that make up the vibrant night life, even though Pattaya is still known all over the world for these countless bars that transform the city every night into a sea of lights and with their entertainment and ice cold beer attract scores of patrons who often enjoy themselves until the early hours of the morning. Especially in the south of town, where the so called "Golden Mile" or "Walking Street" is located, many single male tourists seem to have a ball as there is an unlimited number of female "companions" available, ready to fulfill every wish and every need.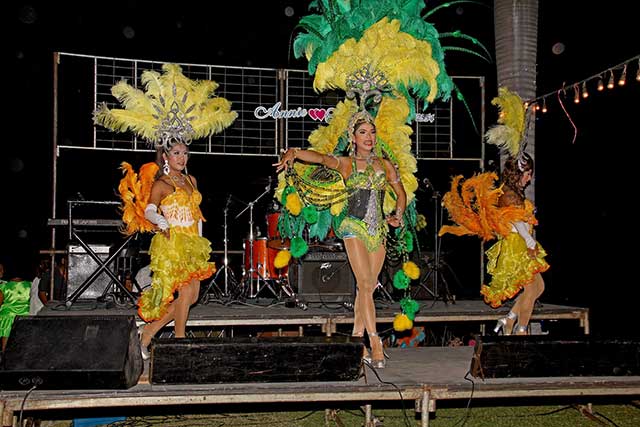 Colourful transvestite shows for tourists from all over the world.
In "Walking Street", many single men seem to have a ball
But apart from all those frivolous distractions, the resort has also earned itself a high reputation as a culinary wonderland. On every street corner there are vendors who sell deliciously spicy soups, grilled meat on skewers and freshly caught fish and other types of seafood.
Among the 1,000 or so restaurants in Pattaya you'll also find many other delicacies such as Swiss fondue, Italian pizza, Spanish paella, German pork knuckle, Lebanese curried chicken, Korean dog and Russian borretch, not to mention all the wonderful Thai and Seafood places. Life in Pattaya has become a culinary heaven with prices that will hardly be beaten anywhere in the world.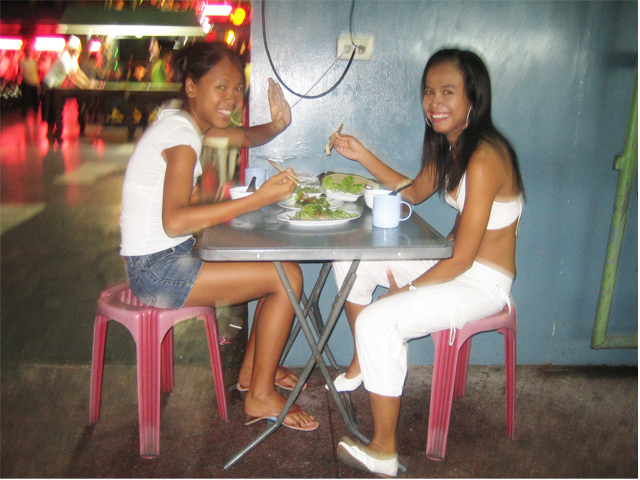 In pursuit of fun and happiness.
Yet it's not only restaurants, but also hotels, guesthouses and bars which are owned or managed by Westerners. Then there are several diving schools, as well as fitness centres, real estate firms, law offices, dental surgeries and all kinds of repair shops where there is someone who can speak English, German, French or some other European language.
There are, by the way, also more and more leisure activities for families with kids. The Nong Nooch Village complex for example as well as the Crocodile Farm, the Elephant Camp, Mini Siam, Sheep farms and above all, the gigantic water parks such as the Ramayana water park or Cartoon Network water park that are both located outside Pattaya. Or visit the unusual temples and gardens at Wat Yan. All this will ensure that nobody will ever get bored. Furthermore visitors can pursue an endless variety of sporting activities. Pattaya offers all sorts of water sports, and there are twelve golf courses, right at the city`s doorsteps, there is a cable water ski park, three go-kart circuits, numerous put-put courses, two paintball parks and bungee jumping towers. Some of the popular yearly events are the international Pattaya Marathon, the ITB tennis and a golf tournament and the Pattaya Music and the Pattaya firework festival.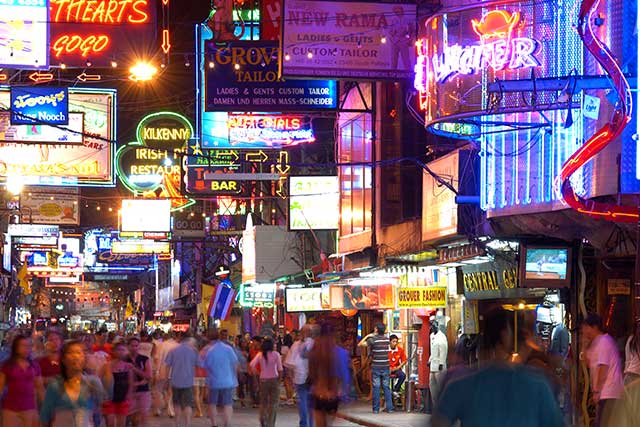 The "sin mile". A must for every Pattaya visitor.
Whatever one may look for, Pattaya has something for everybody
Those people who shy away from such 'strenuous' activities can relax on one of the many beaches, starting at Wongamat, where you'll find mainly German speaking tourists, all the way down to Jomtien. Another possibility would be to hire one of the relatively cheap charter boats that take people to the islands in the Bay of Pattaya, such as Koh Larn, Koh Pai, Koh Huchang, Koh Manwichai or Koh Klungbadan. There one can find coral reefs that are still the natural habitat of stingrays, leopard sharks and sea turtles, apart from a few shell encrusted ship wrecks. More beautiful beaches can be found along the coastline in Baan Ampur, Bangsarae or Baan Chang.
And there are still other oases of peace right in the middle of this bustling tourist centre, be it at the afore mentioned Phra Tamnak Hill, or in one of the town's 368 hotels which together offer 42,000 competitively priced rooms as well as beautiful gardens and usually a swimming pool or two. No doubt, and for several good reasons, the majority of all expats have chosen a life in Pattaya over all other destinations in Thailand.
Whatever one may look for, Pattaya has something for everybody, and judging by the developments going on in this town and the optimism shown by Thai and foreign investors alike, this "fishing village" is definitely looking forward to a golden future.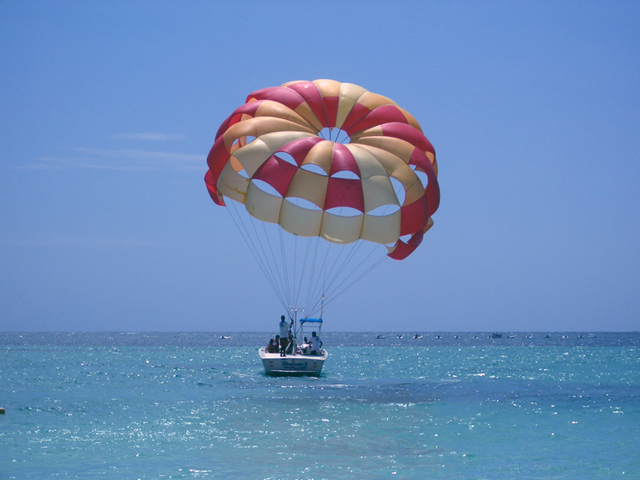 An abundance of water sports awaits the visitor all year round.