Koh Chang is a Mecca for people who are looking for beautiful beaches, lush tropical forests and imposing mountains with waterfalls, but at the same time enjoy luxury accommodation, nice restaurants and cool nightclubs and beach bars. In short an idyll combined with all modern amenities. Some of the old hippie quarters still exist, but most of them have made room for more up-market accommodation.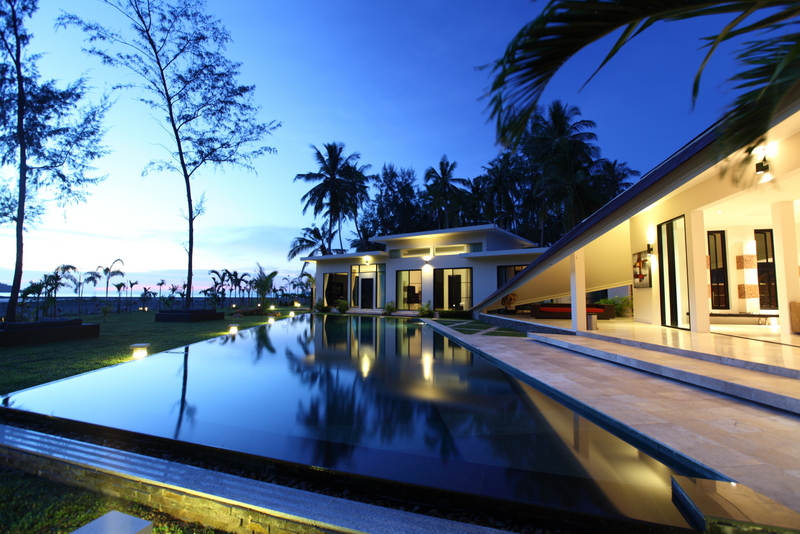 The ultimate beachfront pool villa for rent.
Nowadays Koh Chang is being regarded as an equal of Samui and Phuket, as a lot has been done on the island. The constant building activity and the rising land prices are signs of this development, but because this development started relatively late - mainly during the premiership of Thaksin Shinawatra (2001 - 2006) - a great deal of transgressions in regards to building activities has been avoided. Most likely it's not just human rationality but rather the mere existence of the national park that limits the overall development. This park covers about ¾ of the island and therefore guarantees the preservation of nature and restricts the construction of commercial buildings.
This circumstance and the continuously improving infrastructure have contributed to the fact that the standard of visitors and their willingness to spend money are steadily on the rise. Soon there emerged stressed business people from the west who wanted to acquire real estate. Where else could one relax in such splendid surroundings?
Waking up and taking a walk on a heavenly beach - Beachfront villas for sale.
The pioneers in the development of holiday accommodation as a means to earn an income were two Swiss nationals, who with the help of some investors had acquired a beautiful bay with a total of six beaches. Today there are 60 Thai-style villas, some low-rise condominiums, a 9-hole golf course, a fantastic 50-metre swimming pool, an elegant clubhouse, some restaurants and other facilities on this site. A marina for the yachts of the well-heeled or the occasional sailors will soon be completed. Furthermore there are some condominium buildings on the island that have been incorporated more or less harmoniously into nature. These can be purchased directly by foreign buyers. Also available are various luxurious villas in stunning locations.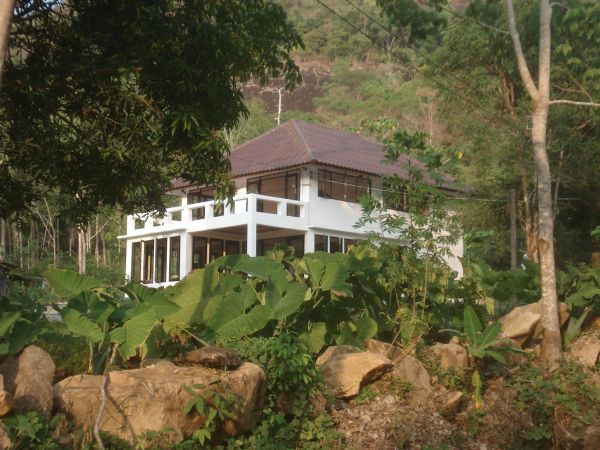 A dream within reach – House with seaviews for sale.
Nowadays professional builders invest in housing-, villas- and condominium estates in limited numbers. At beautiful locations high quality projects are being built. One should watch these developments with a keen eye, and it would certainly be advisable to talk to an expert before deciding on a particular project. These days more and more houses are being built on the flanks of the mountains on the lower edges of the forest, which ensure marvelous views over the sea and the offshore islands.
In less prominent locations one can already find a nice flat or a smaller house - both with western comfort - for around 60.000 US Dollars. Here you can find interesting properties for sale. Rental accommodation, be it a house, villa or apartment, for a holiday or to escape the European winter or for a longtime stay, is also available. Find here a choice of rental offers. Living on Koh Chang means living with nature, and a nice beach is always close by.
Obviously on Koh Chang and the entire province of Trat the same laws regarding the building and purchasing of real estate apply like anywhere else in Thailand. Many valuable tips regarding real estate laws can be found right here. Ownership documents, right of access, the quality of buildings and the danger of flooding are some of the points that should be checked very carefully when purchasing real estate on Koh Chang. Please talk to us or send us an e-mail. We are here to help you.
Koh Chang: Why should I invest on this island?
On Koh Chang one can realize the dream to live in a place to which other people have to travel a long way if they wish to spend some time in such beautiful location. Good value for money, excellent chances to let your property and therefore make a profit - well-heeled tourists are prepared to pay high prices for private holiday accommodation - as well as the possibility to combine business with pleasure, are compelling reasons to invest on Koh Chang.
Real estate prices generally range between those of Samui and Phuket. On Koh Chang buildings are not allowed to be higher than the treetops, in other words, they cannot have more than four floors. In this way the beauty of the island will be maintained.
Koh Chang: The market situation and real estate prices
At this point in time there are relatively few properties for sale, as the island is still in its development stage. Nevertheless, because of the global financial situation and the Euro-crisis many people seek to invest their capital in the emerging Thai market. Anywhere in the world location and limited supply are the price dictating factors. The beauty and the good infrastructure of the island have already been mentioned before. Because of the fact that the national park, which covers most of the island, is a protected zone in which no commercial buildings can be erected, and also because building plots are few, real estate prices will no doubt go up. At present prices are still lower than those in Phuket and other tropical destinations around the globe, but because of the reasons mentioned above, one can expect that this will soon change.
Mainland Trat, Koh Mak, Koh Kut - the real estate situation
Even though the mainland is not without its individual charm, as far as real estate is concerned it is of no interest to foreign investors. There just is nothing outstanding and the region lacks in and the possibility to meet Westerners. The same goes for the islands of Koh Mak and Koh Kut. On Koh Mak, however, things are starting to change. A lot of land has been sold there lately and the foundations have been laid for the first few housing complexes.